Memories of school lunch meals bring up an array of emotions in most parents. In the 1980's the school cafeteria was ground zero for hanging with my friends, comparing leg warmers and trading stickers.
While I work with food every day what sticks out for me the most are the memories of the inedible rubbery hot dogs and gray-blue rectangular pizza. Remember fish stick day, and the cold mac & cheese? Most schools have done away with the lunch lady and so it's up to us to feed the kids. These "Modernized-Healthy" versions will make you and your kids happy for lunch every day. Since you are feeding 2+ kids most of the recipes serve 6-8, that way you will have leftovers for the next day.
Monday's Special – Macaroni & Cheese, Serves 6-8
It contains vegetables, whole grains, and dairy so you can feel good about serving your little one this healthy alternative.
•3 cups cubed butternut squash, (1 ½ cups puree)
•1 cup vegetable or chicken broth
•¾ cup almond milk
•2 cups macaroni noodles, GF or regular
•1 1/2 teaspoons garlic salt
•1 tsp Worcestershire Sauce
•4 oz/1 cup shredded cheddar cheese
•pinch of nutmeg, optional
•1-2 tbsp cornstarch
1.Heat butternut squash, broth and almond milk in a medium saucepan. Bring to a boil and then reduce to a simmer and cook for 15 minutes or until butternut squash is soft.
2.At the same time, cook macaroni noodles according to package instructions, drain and set aside when done.
3.Carefully pour butternut squash mixture into a blender or use an immersion blender. Add garlic salt and Worcestershire to the mixture. Blends until really smooth, you don't want any pieces in the sauce.
4.Pour butternut mixture into the pasta saucepan and add cheese. Stir until cheese is totally melted. If the sauce seems to be too thin, return saucepan to the stove over low heat. Start by dissolving 1 tablespoon of cornstarch in cold water and add it to the sauce. Stir until thickened. Repeat with the remaining tablespoon of cornstarch, if necessary. Once the sauce has reached desired consistency, add pasta and coat well. Serve while still warm and garnish with parsley, if desired. Enjoy!
Beth's Notes – Buy the already cubed squash from the market. If you start the squash/broth/milk as soon as you start the pasta, everything will be done at the same time. Double or triple this recipe, it freezes really well and if you portion into small containers/baggies in the freezer; lunch time is just a few seconds away.
Tuesday's Special – Vegetable "Mini" Meatloaf & Sweet Potato Mash, Serves 6-8
Vegetable "Mini" Meatloaf
Kids and sometimes adults can be obstinate when it comes to eating their vegetables. But paired with the right ingredients, you can "hide" them in plain sight. These mini veggie meatloaves are full of nutritious vegetables but don't tell them. Hot or cold, these are always a kids favorite
•1 lb ground beef
•1 lb ground turkey
•2 tsp olive oil
•3 large carrots, shredded
•1 medium zucchini, shredded
•1 onion, chopped
•2 clove garlic, minced
•3 cups fresh spinach
•1 tsp salt
•½ tsp pepper
•2 tsp Worcestershire sauce
•2 egg
•½ cup oats, GF or regular
•1 cup tomato sauce, split into ½ cups
1.Preheat oven to 350 degrees.
2.Heat oil in a large pan over medium-high heat. Add vegetables to pan, and sauté until soft about 5 minutes. Remove from heat and set aside.
3.In a large bowl, combine ground meat, garlic, salt, pepper, Worcestershire sauce, egg, oats, ½ cup tomato sauce, and vegetables. Mix until thoroughly combined, getting your hands dirty here works best.
4.Form into 6-8 4-inch loaves; place on prepared baking sheet, make sure the loafs are equal to ensure even cooking. Top with tomato sauce, and bake for 20 minutes, or until cooked through.
Beth's Notes – Cutting a few into slices is a great way to get the kids to have a piece after school too. Having the kids help and make their own loaf will hopefully guarantee a feast. These freeze really well and stay in the refrigerator for until 5 days. Use the mash as a dip for the meatloaves at dinner too.
Sweet Potato Mash
Not your normal mash, the bright orange color and sweet smell with definitely get the kids interested and the nuts plus coconut topping will get them eating. Full of antioxidants and beta-carotene.
•3 sweet potatoes
•2 tbsp coconut oil
•sea salt and black pepper
•1 can coconut milk, full fat
•2 tbsp raw honey
•1 tbsp coconut oil
•1 tsp cinnamon
•½ tsp salt
•¼ cup chopped pecans or walnuts
•¼ cup unsweetened shredded coconut
1.Preheat the oven to 400 ̊F. Wash the sweet potatoes and poke with a fork all over. Place on a prepared baking sheet and pour melted coconut over each potato to coat. Sprinkle with salt and pepper.
2.Bake for 40 minutes or until soft; remove from oven and allow to cool. When cooled, cut potato in half and scoop out all the potato and place into a food processor or large bowl if using an immersion blender, blend until smooth.
3.In a medium saucepan, combine milk, honey, and coconut oil over low heat for 10 minutes, mix occasionally. Add the hot mixture plus cinnamon and ¼ tsp salt to the food processor or bowl and blend until totally incorporated. Pour into a serving bowl and serve hot. Top with chopped nuts and unsweetened shredded coconut.
Beth's Notes – Save the skins; baked potato skins are a huge hit with the adults in the house too. Place them on a prepared baking sheet with shredded cheese and place under the broiler for a few minutes, until bubbly and brown. Top with avocado and season with salt and pepper. Enjoy with a knife and fork.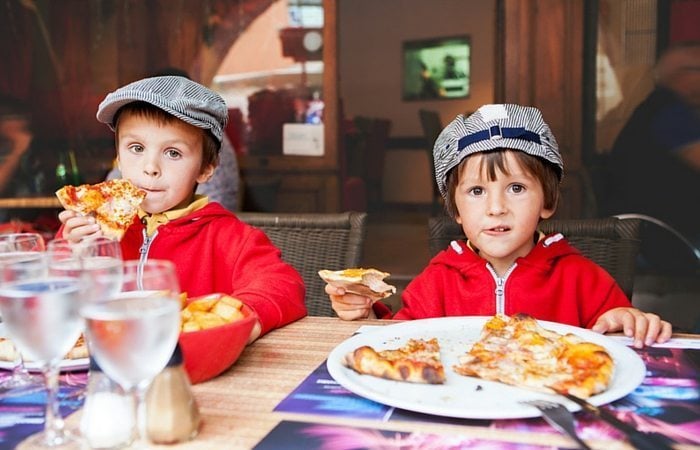 Wednesday's Special – White Naan Pizza, Serves 4
Pizza can be healthy too; it's all in the ingredients. With pizza, it is important to focus on the quality and serving size.
(Trader Joe's or Stonefire are my favorite brands, whole wheat too)
4 piece Indian Naan bread, one per person
4 tsp extra virgin olive oil
1 cup ricotta cheese
Salt and pepper, to taste
1 pint cherry tomatoes, sliced in half
2 cups mozzarella cheese, shredded
½ cup basil, chopped
Topping Options
•½ cup fresh spinach
•¼ cup onion, thinly sliced
•½ cup broccoli florets, chopped small
•½ cup pineapple, chopped
•½ cup mushrooms, sliced
•Olives, garlic, spices
•Cheeses
1.Preheat the oven to 400. Brush the Naan with the olive oil.
2.In a small bowl, mix together the ricotta cheese, salt and pepper
3.Spread the ricotta mixture over the Naan then top with shredded mozzarella, tomatoes and basil. (Optional toppings go on here.)
4.Place on a baking sheet and bake for about 10 minutes or until the cheese is melted.
Beth's Notes – Kids love to eat what they make, plus it is pizza! Try adding their favorite veggie and make it fun. If you don't have Naan, fresh or frozen pizza dough will do the trick, just make it whole wheat.
Thursday's Special – Fish Sticks, Makes 6-8 servings
The fish sticks in a box have chemicals for stabilization and added preservatives. Making them at home you can ensure the quality and it is another way to get the kids cooking too.
•2 eggs, beaten
•3½ cups panko or corn meal (GF)
•1 tbsp seasoning, like Old Bay or 21 Salute (Trader Joes)
•3 tbsp olive oil
•3 lbs cod fillets, cut into "sticks"
•½ cup Greek yogurt
•¼ cup parsley, chopped
•½ tbsp Dijon mustard
•1½ tbsp lemon juice, fresh
•Salt
•Fresh ground pepper
1.Preheat oven to 475, cover two baking pans with aluminum foil and spray with olive oil (grease).
2.Crack eggs in a shallow bowl; season with salt and pepper. In a second bowl, combine breadcrumbs and seasoning. Dip fish "sticks" into the egg, then into breadcrumb mixture, make sure there is a nice coating on the fish. Place on prepared baking pan.
3.Bake until lightly golden, 12 to 15 minutes, rotating sheets from top to bottom halfway through.
4.Meanwhile, in a small bowl, stir together yogurt, parsley, mustard, lemon juice then season with salt and pepper. Serve fish sticks with dipping sauce and watch them disappear.
Beth's Notes – To make fish sticks, cut fish fillets in half lengthwise down center line. Halve again lengthwise, then crosswise. This recipe is great for freezing too. Make an extra batch and have them on those late sports nights. These also make a great base for fish tacos; add tortillas, avocado, and a little cabbage for another easy dinner for the family.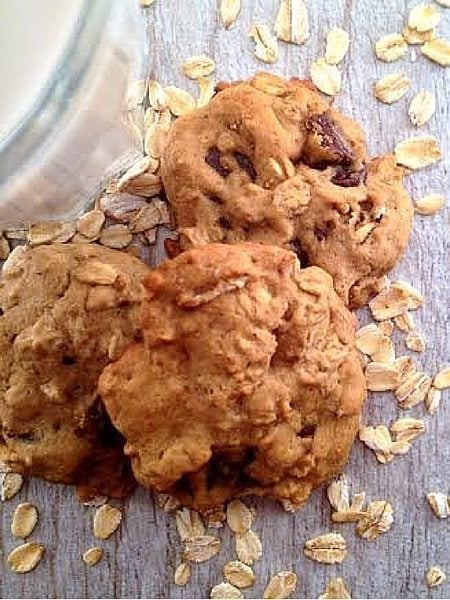 Friday's Special Dessert – Healthy Chocolate Chip Cookies,(Can be Gluten Free), Makes 2 dozen
If you are going to have dessert, do it right, NOT FROM A BOX! Whole real ingredients and great tasting chocolate. These cookies are soft in the middle and unbeatable when made with extra ripe bananas and made in less than 15 minutes.
•1 ¼ cups white whole wheat flour or GF 1-1 flour
•¼ tsp salt
•¾ tsp baking soda
•1/3 cup melted coconut oil
•½ cup coconut sugar
•2 tsp vanilla extract
•1 egg
•2 large extra ripe bananas, mashed
•1¼ cups rolled oats
•½ cup chocolate chips
1.Preheat oven to 375 degrees F. In a medium bowl, whisk together flour, salt, and baking soda; set aside.
2.In a standing mixer or hand-held electric beater mix; oil, sugar, vanilla, and egg until well smooth, add in mashed banana until it looks creamy.
3.Add in dry ingredient mixture and mix until combined. Turn off boxer/beater and stir in oats and chocolate chips with an oversized spoon.
4.Using a mini scoop, place cookies on the prepared baking sheet. Bake cookies for 12 minutes or until golden brown.
Beth's Notes – When completely cooled place desired amount in a ziplock freezer bag and put in the freezer. When you have a craving, pop one in the microwave for 30 seconds and enjoy. Store cookies in an air-tight container on the counter for up to 3 days.
For recipes like this one – click here for more.
Butternut Squash Soup
---
Are You Tired of Not Knowing What to Eat?
What to eat healthy, but need a plan?
Feeling like you ate BAD all month and just need a push to get back on track?
Are you constantly opening the fridge and wondering what to make?
Breakfast, lunch, snack and dinner all laid out for you.
Recipes and a place for your shopping list.